At Keshav Mahavidyalaya we believe in hands-on experience for the students. As theoretical knowledge alone is insufficient and incomplete, well equipped laboratories have been set up in all the relevant courses.
Physics Labs
---
The college has two Physics Labs, equipped with the latest and sophisticated instruments, which are used for practical work related to mechanics, optics, heat and electrical circuits. Separate air-conditioned dark rooms are also available for performing experiments related to optics and ballistic galvanometer. The labs are continuously upgraded to ensure that the students are equipped with the latest skills.
The facilities in the lab include:
Digital storage oscilloscopes
He-Ne laser interfacing facilities
Hall Effect set up
Computer simulation facilities
Michelson's interferometer
CRO & TV trainer kits
CRO & TV trainer kits
Ultrasonic grating set up
Set up for PE Hysteresis
Set up for elliptically polarized light Electronics Lab
These labs are used to perform experiments based on Analog electronics, Digital circuits and Systems, Instrumentation, Communication and Signal Processing and Micro-processor Applications. Students develop a working knowledge of various integrated circuit families, circuit designing, ROM, EPROM, and RAM. These labs are equipped with the latest 8085 and 8086 trainer kits.
Chemistry Labs
---

Two chemistry labs, furnished with modern instruments like electronic balances, electrophoresis machine, digital pH meters, and potentiometers, are also available at Keshav Mahavidyalaya. A fully air-conditioned analytical technique laboratory is also being set up. The biology labs are well equipped too. Computer facility is also available in both labs for students use.
Computer Labs
---

The Computer wing has three spacious computer labs equipped with state-of-the-art facilities. All the systems are of latest configuration. The labs can accommodate approximately 90 systems apart from servers. There is a separate UPS room. The lab has a wireless LAN using Wi-Fi Routers. It also provides multimedia facilities and is equipped with an OHP, LCD Projector, and Scanner. BBS/BMS Computer Lab The Department of Management Studies has a fully air conditioned computer lab with Internet facility and access to software like SPSS, Capitaline, ProjectLibre etc. It also has portable projectors and laptops for faculty and student use. ICT Lab The College has dedicated ICT lab which has high end systems to run sophisticated software such as MATLAB, Mathematica etc. for commerce and mathematics student to work on computer and statistics.
Psychology Lab
---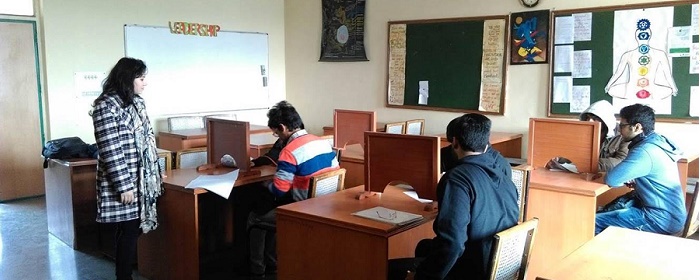 The Psychology lab of the college is well equipped with the latest Psychological tests and instruments such as 3 Digital Reaction Time Apparatus, 3 Mirror Drawing Apparatus,4 Muller Lyer Apparatus with Stand,3 Digital Arm Type Blood Pressure Monitor, 3 Digital Thermometer, 2 Memory Drums. Every year, new instruments and tests are added to give a wide exposure to students. The lab has a wide range of standardized Psychometric Tests applicable in clinical, organizational, social, neurocognitive and counselling settings. A total of 36 Psychometric Tests and Scales are available in the Laboratory.